Search engine marketing for healthcare organisations
E-book summary.
Google is now probably the most widely used research tool used by patients and healthcare professionals when looking for information on a particular health condition or looking for medical consultants, practices, products and private services. Around 80% of people will start their online session at a search engine. Therefore, search engine marketing offers many benefits for businesses looking for a highly targeted and measurable form of marketing to disseminate information and promote products and services.
This paper aims to help CEOs, Directors, Marketing & Practice Managers within healthcare, medical and pharmaceutical organisations understand all the different elements and business benefits of 'Search Marketing' and how they can be applied to their businesses to help reach and interact with their target audiences.
It's all happening online.
All over the globe the Internet is increasingly being recognised as a tool for healthcare sectors to develop as part of on an e-health infrastructure. The e-health initiative is all about using technologies like the Web to transmit, store and retrieve digital data. In 2010 the total
e-health spend accounted for 5 percent of total health budgets of the EU Member States compared with just 1% in 2000.
In the US the number one most trusted source of information is physicians (62%). The second most trusted source is the Internet (57%). In Europe these figures are 85% for physicians and 75% for Internet. So, clearly the Internet must be seen as an important channel for communicating with your target audiences. However, most pharma and healthcare companies still invest less than 10% of their marketing budgets on digital and search will probably get a small percentage of that, somewhere in the region of 2-3%.
The Internet & healthcare information.
"The UK is clearly relying on Dr. Google and that trend is set to grow due to the increasing pressures on our NHS". In the UK people are increasingly looking online to assess their health as they find it harder to get a doctor's appointment. According to the Push Doctor Digital Health Report 21.8 percent of people in 2015 chose self-diagnosis with search engines. 11 per cent said that this was because they were unable to get a doctor's appointment, while the other 10.8 per cent said Google was the best option because their GP wasn't available quickly enough.
The BUPA Health Pulse report states approximately 15% of individuals will "often" use the Internet to search for advice about health, medicines, or medical conditions. Approximately 60% will "sometimes" use the Internet and 25% will "never" use the Internet as a source for information. The survey also indicated that graduates and those in highest income bracket are more likely to regularly use the Internet to search for health information. The UK is clearly relying on Dr. Google and that trend is set to grow due to the increasing pressures on
our NHS.
Search engines are the most visited sites on the Web.
Most searches for health related information will take place via the major search engines, Google, Bing or Yahoo. Searches for specific diseases or medical problems, medical procedures and exercise/fitness related information are the most popular areas being
researched online. Google is by far the most widely used search engine with 83% of searchers in the UK using Google and only 4% using Bing and a mere 2.5% using Yahoo. Google clearly dominates the search market and should therefore be the search engine you focus on for your search campaigns. In fact out of all the websites in the UK, Google is the most visited site. Facebook is second and the top non search/social media oriented site is the BBC ranked at number 8.
'Search' is much more than simply optimising individual web pages. Search engines are now able to index and display a variety of digital assets in their results – like video, medical papers, images and tweets. Faster download speeds have also encouraged web surfers to download more online videos and this area of digital communication offers a truly interactive and engaging experience.
There are two key ways in which you can make your organisation more visible on search engines:
Search Engine Optimisation (SEO)
Pay Per Click Advertising (PPC).
Each area is a massive topic in itself so in this whitepaper I'll take you through the basics of each discipline.
Search and keywords.
The most important aspect of any search engine marketing campaign is making sure that you are targeting the right key phrases and using those key phrases intelligently within the content on your website and your other digital assets whether they are, video, images, white papers, or tweets.
Most companies make the mistake of focusing on keywords that they are familiar with internally. The pharma and healthcare sectors are awash with in-house jargon and acronyms. So, when it comes to search you need to put yourself in the shoes of a potential patient/physician/health professional and think about the keywords they might use to find your products and services. Here is an example.
Marketing professionals working for a cancer treatment company might be happy to use the word 'oncology,' in their material, whereas individuals looking for information on the disease will use the word 'cancer.'
Another example would be a company promoting the effective relief of 'Pyrosis.' Again, it's unlikely that a consumer will type in "pyrosis relief," chances are they are more likely to Google "heartburn relief." However, a physician might indeed use the correct medical term
as part of their search query.
The message here is you need to match the content on your site to 'real' searches being carried out by your various target audiences. A simple search using the Google keyword planner tool can give you an idea as to what key phrases people are searching on and their respective volumes.
It may also be the case that individuals won't be aware of your particular product names or brands and will tend to use longer, more descriptive search queries to research a particular drug or medical condition and its treatment. It is important for marketers to understand this shift in search behaviour and to ensure that their keyword strategies take into account the 'long-tail'. Long tail keywords are typically 3-6 words in length, but they could be even longer than that as opposed to short tail keywords that are more often 1-2 words in length, sometimes 3 words but used for more general searches.
So, your goal should be to try and think about the different phrases that your target audiences will use to try and seek out information on your products and services. For more information on the 'long-tail' theory visit: http://en.wikipedia.org/wiki/Long_Tail
Dealing with medical and pharma compliance.
Research from reports provide real evidence that the Web is being extensively used to research and buy healthcare related products and services online. The tight regulations that surround medical and pharmaceutical marketing especially when promoting medicines (Medicines Act and the ABPI Code Of Practice) may make it harder for certain pharma and medical businesses to take advantage of the customer acquisition opportunities that search engine marketing presents. However, with a bit of creative thinking and a clear compliance plan there are search marketing solutions that can be applied to help these businesses overcome such hurdles and take advantage of the traffic generating potential of 'Search'.
Mobile search.
The growing use of mobile search is an area that must also not be understated. As the mobile phone makers continuously improve the browsing capabilities of their handsets, more and more mobile phone users are enjoying the convenience and anonymity that searching and browsing the web via their smartphone offers. And if the predictions of the Ipsos report are correct – this is a trend that will only continue to grow. Including mobile optimisation in your healthcare SEO strategy now will put you ahead of the game once mobile becomes a channel that can't be ignored.
Download full whitepaper.
Download the Healthcare Search Engine Marketing Whitepaper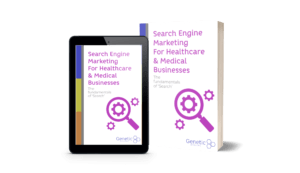 https://www.geneticdigital.co.uk/wp-content/uploads/2019/11/SEO_eBook.png
1150
1810
Damon Lightley
/wp-content/themes/enfold-child/logo-01.svg
Damon Lightley
2021-06-07 13:57:16
2021-06-25 14:37:49
Search engine marketing for healthcare organisations