Google Analytics no longer providing organic keyword data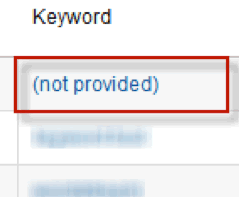 Many of you may have noticed that for some time now that Google Analytics has been showing the "(not provided)" message in the keyword data section. And while the (not provided) tag was annoying, we still had enough organic keyword data to help us assess the effectiveness of our SEO strategy and measure visits and conversions rates from organic search.
But on September 23rd this all changed quite significantly as Google moved to encrypted searches which meant that all Google organic keyword searches are now 100% secure. When a user goes to Google to search, they are automatically redirected to the https:// version of their Google domain of choice. This encryption means that Google no longer shares any keyword data with website owners, regardless of whether a user is logged into their Google account when conducting a search.
This is great from a privacy perspective and Google has been making major steps to help protect everyone's privacy but I remain highly suspicious as to why Google has only done this for organic searches only. They are still happy to provide website owners with keyword data if they are using Google Adwords to attract visitors to their site. So Google the money making machine, with shareholders wanting to see increasing profits so they can get a quick return on their investment, fully understand the requirement for website owners and SEOs to be able to track the effectiveness and commercial value of various keywords. And now the only way we can do that is to test the value of key phrases using paid ads in the Google sponsored listings. Pure genius, another quick way Google can increase its revenues and profits. I can't help but question if Google's informal corporate motto: "Don't be evil" still rings true amongst the Board, given these recent changes.
So what can we do to still try and understand the value that certain keywords have on driving good quality visitors and conversions? Here are our some of the tactics we've been adopting to get around the issue:
Looking at non-Google keywords. OK a fairly obvious one I know and although Bing and Yahoo collectively have less than a 7% share of the search market, you can make the assumption that visitors coming from Bing or Yahoo are on average using pretty similar search terms to that of Google users. The problem you may have is if your site does not get a great deal of traffic in the first place you might struggle to obtain enough good quality data to make an informed decision.
Analysing your Webmaster Tools data. At present Webmasters Tools does include search data from encrypted searches but only for the last 90 days so start exporting and saving that data for analysis.
Analysing on-site searches. If your site has its own search facility then you can use Google Analytics to capture and analyse data from your site search facility. You'll then be able to see what key terms users are typing into your site search tool, this will give you an insight into how they search and the various words they use in phrases.
Setting up test campaigns on Google Adwords. Using Google Adwords to test the effectiveness of certain key phrases is actually something we recommend our clients do before they embark on an SEO campaign if they have no existing keyword data to analyse. We find that this approach can help to reduce the risk of targeting the wrong phases from day one and because SEO does not deliver quick and immediate results, you don't want to be committing resource and budget into a keyword strategy only to find that several months later despite seeing increased rankings for those keywords you have focused on, you're still no better off from a customer acquisition perspective. Using the Google Ad Planner you can easily determine search volume and estimated clicks (on ads) for particular keywords which will help you to formulate your initial test keyword list.
Looking at historical data. Our search behaviour has not changed that much so there's still a lot value in pre-encrypted search data that still resides within Google Analytics. You can check the data to see if there were any seasonal differences worth noting and also to check bounce rates, conversions and assisted conversions too for various keywords.
Using Google Trends. Google Trends is a favourite tool of mine and one I like to use quite regularly as it gives me a better insight into for which keywords are trending right now. So if you do notice a huge spike in traffic and you suspect it could be something newsworthy or trendy, but the majority is "(not provided)", head over to Google Trends and it might possibly give you an idea on what exactly it is that is trending that is bring you the extra traffic.
Setting up filters in Google Analytics. Most marketers are not aware of the full range of features available to them in Google Analytics and setting up custom filters is one way great way to really understand how your website and marketing campaigns are performing. You can set up filters for all your "(not provided)" traffic so that it shows you the landing page for each of those "(not provided)" referrals. So even though you might not know the exact keyword that's bringing in the visits, you can instead filter it so that you can see what page they landed on. You can then look at the keywords that you've used in your title tag and in the on-page content and that should give you some idea as to what search phrase might have brought on to that page.
Need help?
If you're struggling to get to grips with the encrypted search issues in Google Analytics and need expert help to better understand what changes you should be making to your web analytics strategy to help you measure your digital performance more effectively then get in touch to request a Google Analytics Assessment.
https://www.geneticdigital.co.uk/wp-content/uploads/2021/06/logo-hex.png
228
800
Damon Lightley
/wp-content/themes/enfold-child/logo-01.svg
Damon Lightley
2013-10-11 12:35:22
2021-06-18 15:52:16
Google Analytics no longer providing organic keyword data